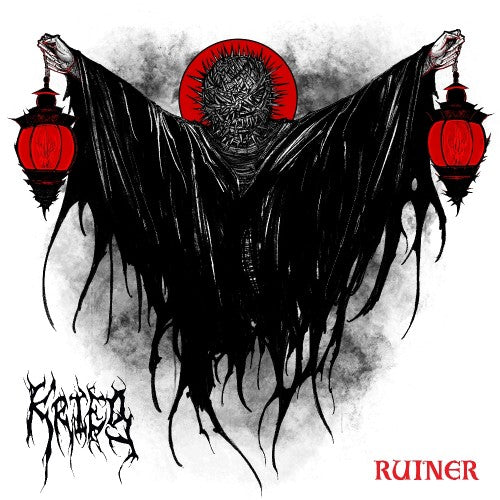 Krieg - Ruiner LP
Krieg - Ruiner LP
NEW AND UNPLAYED

Profound Lore Records 2023
"Ruiner" the new full-length LP from time-honored US black metal entity KRIEG will see its release on Oct 13. "Ruiner" is the first full-length from the cult US black metal force since 2014's "Transient" and is a despondent expression that captures the classic KRIEG complexion which has solidified KRIEG as a vanguard and pioneer of US black metal.
Even though "Ruiner" is the first KRIEG full-length album in nine years, KRIEG has continued to remain active leading up to its long-awaited release through various splits, collabs and EPs. This all culminated in that moment for "Ruiner" to ultimately manifest itself.
"Ruiner" is unrepentant and remorseless black metal in the reflective manner KRIEG and mastermind N. Jameson have always been known for. Most-notably that of the savage and unhinged aura present in the triarchy of classic KRIEG works, namely "Destruction Ritual" (2001), "The Black House" (2004), and "Blue Miasma" (2006) while maintaining that harsh, sorrowful and cold-blooded melancholic aura.
Track listing
SIDE A:
Bulwark / Fragments Of Nothing / Red Rooms / Solitarily, A Future Renounced
SIDE B:
Manifested Ritual Horror / No Gardens Grow Here / An Execution In The Kingdom Of Ideas / The Lantern And The Key