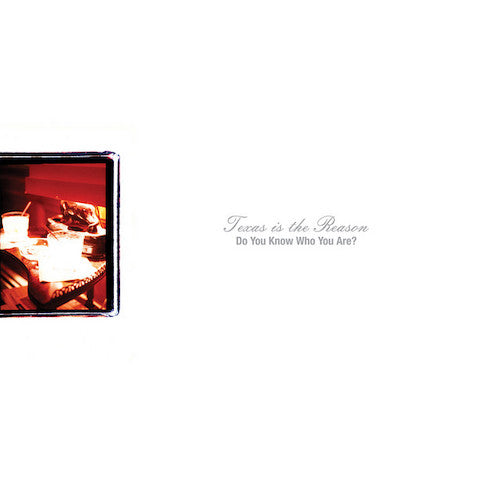 Texas Is The Reason – Do You Know Who You Are? 2XLP
Texas Is The Reason – Do You Know Who You Are? 2XLP
Revelation Records
They came from some of the most popular, if
not polarizing hardcore bands of the early '90s
(SHELTER, 108, RESSURECTION), but by the
time TEXAS IS THE REASON formed in 1994,
a new aesthetic crystallized almost instantly
and reduced its members' previous efforts to
history. Indeed, it was only a year later, when

Revelation Records released the band's self-
titled EP—their name derived from a lyric in

the MISFITS song "Bullet"—that TEXAS IS
THE REASON were already headlining their
own tours in America and well on their way to
defining a new moment in post-punk.
In April of 1996, the band reinforced that
initial success with their first and only album,
produced by JAWBOX's J. Robbins and
named after the last words that John Lennon
was alleged to have heard: Do You Know Who
You Are? In the years since, Spin, Alternative
Press, and Paste would all go on to call Do You
Know Who You Are? an essential '90s album.
Unfortunately, after a year of heavy promotion
and touring for the record, inner-band tension
came to a head, and TEXAS IS THE REASON
officially split in 1997. Its members would
go on to form JETS TO BRAZIL, NEW END
ORIGINAL, and ATLANTIC/PACIFIC.
Since then, the band had only reunited
once—for two sold-out New York City
shows in 2006—but their presence has
barely waned: Newer generations of bands
like SPITALFIELD, INTO IT. OVER IT., and
TRANSIT have covered TEXAS IS THE
REASON songs over the years, and even vets
like THURSDAY, TAKING BACK SUNDAY, and
ARMOR FOR SLEEP have all publicly cited
their influence.