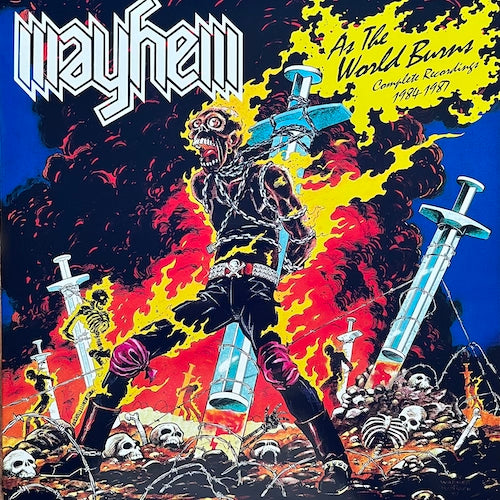 Mayhem - As The World Burns 84/87 2XLP
Mayhem - As The World Burns 84/87 2XLP 
NEW AND UNPLAYED

F.O.A.D.
Diehard mixed vinyl (orange and blue) ltd. to 150 copies.
Official discography 1984-1987 of this seminal speed metal band from Portland, Oregon featuring the legendary Steve Hanford "Thee Slayer Hippie" (RIP) of POISON IDEA on drums!! Punk driven thrash galore delivered with outstanding energy and riffing excellence. Double LP including:
- "Burned alive" LP (1987)
- "Burned alive" bonus track: "Tear down the walls"
- "As the world burns" Demo (1985)
- Misc pre-"Burned alive" demo tracks
A work of love entirely dedicated to Steve Hanford "Thee Slayer Hippie" that took care of the audio transfer and mastering works before passing away. Forget the completely useless reissue of "Burned alive" that recently came out without part of the band's approval, this F.O.A.D. reissue is the ultimate Mayhem Portland's discography, ALL MASTERED FROM THE ORIGINAL REELS including a lot of rare and unreleased contents. Housed in a high glossy gatefold jacket with full colored 16 page booklet collecting rare and exclusive photos, flyers, 'zine excerpts, interviews and a lot more.. Quoting the band:
"Formed in 1983 by Steve (Slayer Hippy) Hanford, Eric (Vegetable) Olson and Craig Lower, this 2xlp includes the bands first recordings in 1984-85 along with their long out of print LP "Burned Alive" from 1987. In 2015 while on tour in Europe with Poison Idea, Eric (Vegetable) Olson was approached by our friends at FOAD Records to do a reissue of all the Mayhem material. Upon returning home to Portland, OR we had Steve track down the master reels of all the Mayhem recordings. This was the beginning of a labour of love for Steve, as he had to get the reels preserved (baked) and then transferred so he could remaster everything while we gathered as many old photos and flyers as possible. Shortly after F.O.A.D. received the finalized recordings from Steve, he unexpectedly passed away. After years of crappy unofficial, unauthorized versions this definitive collection of Mayhem recordings is finally coming out, the way it was intended to be heard. Rest in Power Steve Hanford!"