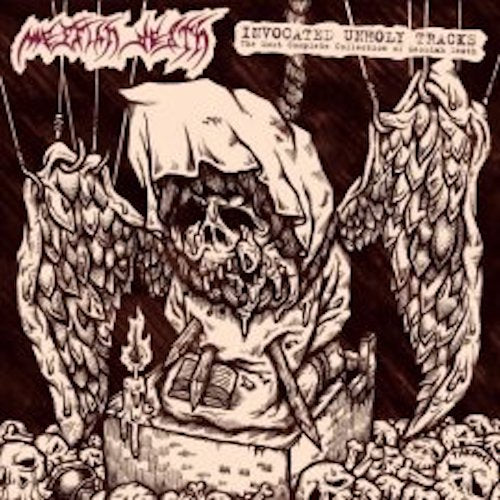 MESSIAH DEATH - Invocated Unholy Tracks: The Most Complete Collection Of Messiah Death 2xLP
MESSIAH DEATH - Invocated Unholy Tracks: The Most Complete Collection Of Messiah Death 2xLP
NEW AND UNPLAYED

F.O.A.D. 2020
Diehard beer yellow vinyl with blood-red splattering ltd. to 150 copies
Complete discography of these grim and aggressive Japanese Death Metal lunatics! Formed in Tokyo in 1987 on the ashes of Criminal Christ, MESSIAH DEATH stand among the earliest acts to raise the unholy flag of Death Metal in their country along with a handful of bands such as Crucifixion, Beleth, Vexation… considering that Necrophile and Transgressor started a bit later. Their style was originally inspired by classics like Possessed, Death, Slayer but gradually escalated to a much rawer and aggressive Death-thrashing onslaught with echoes of bands like Massacre (US), Morbid Angel, Nihilist combined to influences from the South American school of Mutilator, early Sepultura, Vulcano and so on. This double LP includes the band's most complete discography to date, with even more tracks than the now hard to find CD collection released in 2013.
Contents:
– "Gore of the crucifix" Demo (1987)
– "Immortal kingdom" Demo (1988)
– "Invocated unholy souls" Demo (1989)
– "Live at Explosion Rock House, Tokyo" (1988)
– BONUS out takes and unreleased versions.
Audio restored from the original band's sources and specially mastered for vinyl. Gatefold sleeve and MASSIVE full colored booklet including a wide selection of photos, memorabilia, original art, historical notes and lyrics!! Intense, flesh-ripping old school Death Metal at the rawest form!