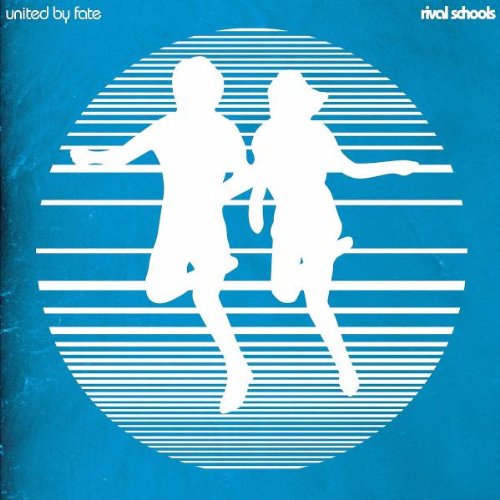 Rival Schools - United By Fate LP
Rival Schools - United By Fate LP
NEW AND UNPLAYED

Run For Cover Records 2022
Rival Schools and Run For Cover Records have teamed up to reissue the band's iconic 2001 album United By Fate, arriving in both a standard edition this fall and an exclusive indie record store deluxe variant for RSD Black Friday. Available on vinyl for the first time since 2015, this is the definitive version of United By Fate - a special record that has defined an entire genre of music in the two decades since its initial release.
The United By Fate standard edition arrives October 28, 2022 and features the instantly recognizable baby-blue and white cover art. This edition is pressed on color vinyl along with an updated version of the original hype sticker from the initial release.
The United By Fate Deluxe Edition will come to indie record stores on exclusive blue vinyl on as part of RSD Black Friday on November 25, 2022, and features an additional disc with ten extra bonus tracks. This includes every official United By Fate b-side, all Rival Schools tracks from their 2001 split with Onelinedrawing (never before released on vinyl) as well as a never before heard acoustic version of the song Holding Sand performed by Walter in Berlin. Moreso, this collector's edition is housed in a hard-cover linen case with stamped lettering, holding a hardcover sixty-four page book featuring handwritten lyrics and never-before-seen photos from the band's personal archives. There are 500 copies of this edition on Run For Cover Webstore exclusive green vinyl, available for pre-order now.
Rival Schools started as the once-new project of vocalist/guitarist Walter Schreifels, who as a member of Youth of Today, Gorilla Biscuits and Quicksand routinely reinvented the sound of hardcore. In Rival Schools he was joined by bandmates Ian Love, Cache Tolman and Sammy Siegler, whose other projects at the time include Iceburn, CIV and Glassjaw. United By Fate was a turning point, offering melodies rather than the abject fury and aggression of those earlier bands – and the result echoes still today serving as an influence for bands in the hardcore world and beyond.
1. Travel By Telephone

2. Everything Has Its Point
3. High Acetate

4. Undercovers On

5. Good Things

6. Used For Glue

7. World Invitational
8. The Switch

9. Holding Sand

10. My Echo

11. Favorite Star

12. So Down On

13. Hooligans For Life
PLEASE NOTE: Due to shipping, the covers to this release have varying degrees of seam splits or corner damaged.