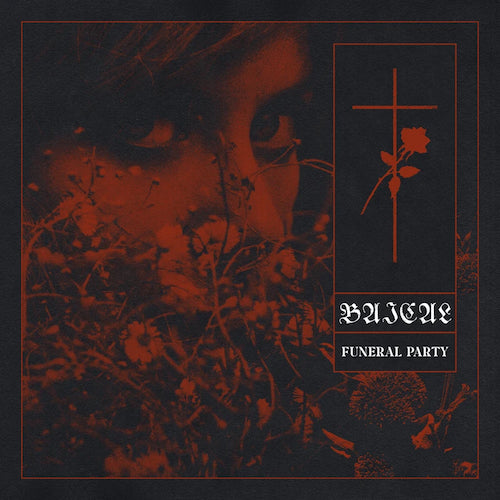 Baical ‎– Funeral Party LP
Baical ‎– Funeral Party LP
NEW AND UNPLAYED

Isolation Records 2020
Baical are a three piece band based in Leipzig, Germany, dedicated to translating their emotional experiences into expressive and ethereal music of the goth/new wave/pop persuasion. Influenced by some of the most prominent alternative bands of the 1980s, they have been inspired by the finest aspects of these groups yet their fresh approach offers a new chapter for fans of this style. When they formed in 2017, they quickly got to work creating their debut EP, Euphoria, which was written in a basement over the course of 2 days during a cold winter. The forbidding seasonal state left an impression on their music that seems to have carried throughout their sound, blending sadness with beauty. Playing shows with Belgrad, Soviet Soviet and Bleib Modern cemented the strength of their songs and gained them further recognition.

The following year, members Richard, Chris and Willi, recorded the album FUNERAL PARTY with producer Magnus Wichmann at Lala Studios in Leipzig. The result is a modern high quality sound that does justice to the strength of their songwriting. Featuring chorus saturated guitar tones reminiscent of The Cure and an authentically 80s drum sound, these finer details all come together to form a unified and harmonious debut release.

The album is full of catchy hooks, luscious melodies, and even contains some dance friendly grooves. The bitter-sweet lyrical themes are instantly relatable to the broken hearted and tragically romantic souls among us all. The artwork also clearly reflects this and adds the perfect visual partner to mirror the overall feel. The vocal harmonies on the opening track bring to mind The Outfield and suitably introduces what is to come. Each track has been written with care and although every one of them stands tall in its own right, the album possesses a strong sense of binding as a whole. The upcoming first single, All Roses Bloom, fully embraces the fragility they have captured so well over the course of the album. The soothing flow of the track makes effective use of dynamics to deliver a truly heartfelt performance from all members. The accompanying video embodies a similar aesthetic to that of the album and allows the band to perform while being immersed in their sombre yet poetic world of expression. For fans of Choir Boy, Rendez-Vous and Sisters of Mercy, this is the perfect sonic companion for the emotional shifts in our lives.