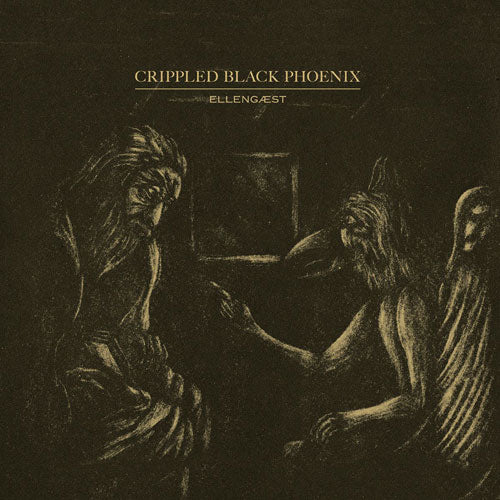 CRIPPLED BLACK PHOENIX - ELLENGÆST 2XLP
CRIPPLED BLACK PHOENIX - ELLENGÆST 2XLP
NEW AND UNPLAYED

Season Of Mist 2020
"Ellengæst' has the difficult task of following 2018's profound and moving 'Great Escape'.
This new release, though, does not make any attempts in pairing with or succeeding its predecessor. Circumstances largely prevented it anyway.
On the day tracking started for 'Ellengæst', Crippled Black Phoenix found themselves without a male lead vocalist and keyboardist. Whereas events of a similar thread would spell doom for most bands, CBP leader Justin Greaves took it as an opportunity to tap into his deep network of musician friends.
Before he knew it, several prominent guest vocalists were secured, ready and able to lend their considerable talents to: Anathema's Vincent Cavanagh, Gaahls Wyrd's Kristian "Gaahl" Espedal, Coliseum/Fotocrime/one-time Crippled Black Phoenix touring bassist Ryan Patterson, up-and-coming U.K. solo artist Suzie Stapleton, and Tribulation's Jonathan Hultén."
Cover Art by Thanasis Stratidakis.
Tracklist :
Side A : House Of Fools / Lost
Side B : In The Night / Cry Of Love
Side C : Everything I Say / (-)
Side D : The Invisible Past / She's In Parties