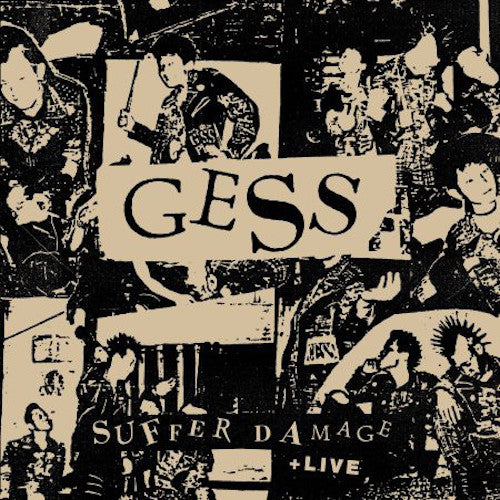 Gess ‎– Suffer Damage + Live LP
Gess ‎– Suffer Damage + Live LP
NEW AND UNPLAYED

F.O.A.D. 2020
Regular black vinyl ltd. to 300 copies
Back to the '80s... Kyushu fuzz-core terror!! Originally formed in 1983 in Sasebo City, Nagasaki Prefecture, these Noise/Punk maniacs quickly moved to Hakata to join the ultra violent scene of pioneering legends like GAI, CONFUSE, NO-CUT, SIEG HEIL and many more, performing at the cult "Control gigs" hosted by the Violent Party crew. Brutal chaotic distortion on a wall of lo-fi filth Punk! The classic "Suffer damage" Demo 1984 for the first time on vinyl mastered from an original tape and sounding better than ever, side B "Live at Matchbox, Hakata" Live 1984 from the same noisy era. Extra CD with 2 x complete "Violent Party" live sets recorded in Nishijin Jaja in 1985 showing their progression from total Noisecore to '77 style Punk that later drove them to form LYDIA CATS!! Includes A3 sized insert with liner notes and rare photos/flyers.
A total must have if you like the earsplitting approach of bands like CONFUSE, GAI, SIEG HEIL, The SWANKYS in their earlier stage, NO-CUT, CURSE and the countless imitators of that sound that came with the following generations.