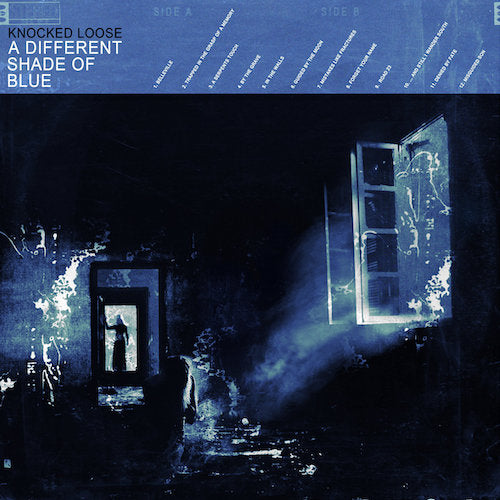 Knocked Loose ‎– A Different Shade of Blue LP
Knocked Loose ‎– A Different Shade of Blue LP 
NEW AND UNPLAYED!
Pure Noise Records 2019
* = PLEASE NOTE: Due to shipping, the LP covers of this release have corner dings, but the vinyl itself is indeed new and unplayed.
Knocked Loose is the obvious evolution to decades of bands like Integrity, Disembodied, Botch, and others- total and complete integration between metal and hardcore into a singular, seamless entity. While some musical influences are easily identified - Pantera, Hatebreed, Obituary, and more - the band's palette and canvas has expanded by leaps and bounds, incorporating Gothenburg-style death metal (At The Gates, early In Flames), slam metal (Devourment, Dying Fetus), blood-thirsty thrash (Sodom, Kreator), black metal (Craft), and the mind-boggling complexity of latter noisy hardcore like Snapcase and Bloodlet. Clocking in at a lean and mean 37 minutes and featuring guest vocals from Emma Boster of Dying Wish and Keith Buckley of Every Time I Die, "A Different Shade Of Blue: grabs the listener by the throat from the jump and slowly tightening that grip for the duration.


Track Listing: 
01. Belleville
02. Trapped In The Grasp Of A Memory
03. A Serpent's Touch (Ft. Emma Bolster)
04. By The Grave
05. In The Walls
06. Guided By The Moon
07. Mistakes Like Fractures 
08. Forget Your Name (Ft. Keith Buckley)
09. Road 23
10. ...And Still I Wander South 
11. Denied by Fate
12. Misguided Son