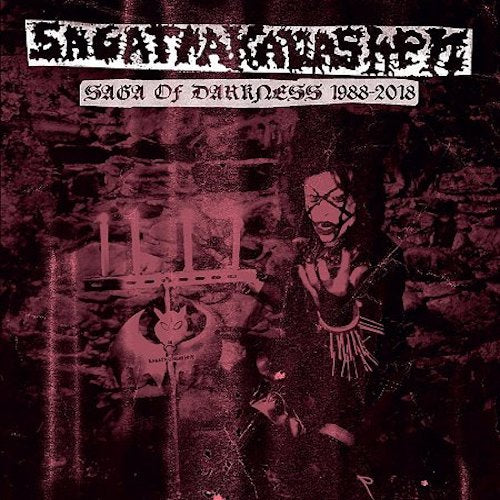 SAGATRAKAVASHEN "Saga Of Darkness 1988-2018" 2XLP
SAGATRAKAVASHEN "Saga Of Darkness 1988-2018" 2XLP (diehard)
NEW AND UNPLAYED

F.O.A.D. 2020
DIEHARD SWIRL FLAMING ORANGE VINYL LIMITED TO 100 COPIES. 

Ultra-raw, primordial Black Metal Punk from the frozen Alps! Enter the obscure myth of Pentacolar, a mysterious entity delivering some of the filthiest, visionary Metal/Punk ever conceived in Italy... a unique case of radical isolationism completely stuck in a '80s time-machine that never reached the internet era.. even in his most recent recordings, all things are made as if the clock hand stopped in 1988: same instruments and recording equipment of when he started. No emails or social networks - all the communication for this release has been carried out via telephone calls, hand written letters and of course masters on audio cassettes. Musically, Sagatrakavashen sounds like an archaic mix of ancient Black Metal a la Venom, Bathory, Hellhammer with some HM incursions (think of early Death SS and Wratchild - of which you'll also find a cover) all tied up by strong DIY ethics and a Hardcore imprint rooted in the Italian school of bands like Wretched, Eu's Arse, Dioxina and so on. This anthology collects the band's complete discography 1988-2018 consisting of:
- extremely rare "Forza Arcana" debut demo (1988)
- "Sexual Lust" EP (1989)
- "Borealis!" Demo (1991)
- "Omega Lucerna Onirica" EP (2018)
all ripped from Pentacolar's mastertapes and specially remastered for vinyl! Gatefold sleeve with 20 page booklet including photos, flyers, original art, zine excerpts and an interesting biographical note that came together as the result of a telephone chat with this mastermind of darkness. If you're fascinated by the roots of Italian blackened Metal and want to hear the most uncontaimnated clash of old school Metal performed with '80s Hardcore energy, you can't miss Sagatrakavashen!