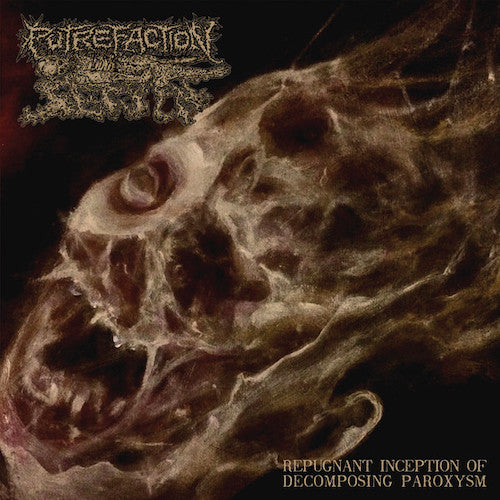 Putrefaction Sets In – Repugnant Inception Of Decomposing LP
Putrefaction Sets In – Repugnant Inception Of Decomposing LP
NEW AND UNPLAYED

F.O.A.D. 2022
Solid black vinyl limited to 250 copies.
"Repugnant inception of decomposing paroxysm" is the debut full length of this old school pathological gore/grind surgeon squad formed by an international all star line-up of grindcore veterans: Urban Skytt (Regurgitate, General Surgery, Nasum, Crematory), Anderson Oliveira (Expurgo), Philipe Belisário (Expurgo), Glenn Sykes (Regurgitate, General Surgery, Malformity) and André Luiz (Lymphatic Phlegm, Neuro-Visceral Exhumation, Offal).
if you enjoyed FOAD's previous foray into forensic gore territories with the Sick Sinus Syndrome LP released some time ago, this one will make your day because it's equally insane and rotten-to-the-core, enhanced by a pulpy, old fashioned production capturing the true essence and morbosity of the genre. 14 tracks of putrefactive gory grind in pure late 80's to early 90's tradition, for fans of early Carcass, Dead Infection and Regurgitate!! Comes with lyrics insert and A2 poster.