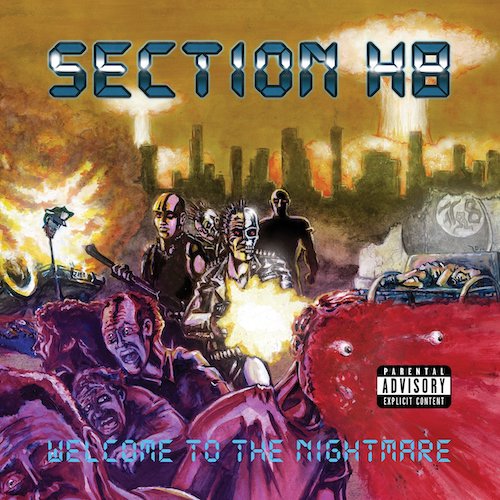 Section H8 ‎– Welcome to the Nightmare LP
Section H8 ‎– Welcome to the Nightmare LP
NEW AND UNPLAYED

Flatspot Records 2021
Formed in 2018, in Los Angeles, California, Section H8 creates gritty and callously honest hardcore punk. Pulling from forbearers of music that was integral to the underground like Madball, Onyx, Agnostic Front, Suicidal Tendencies, Slayer, and Cold As Life, the quintet doesn't always sound like those acts but are instead influenced by the enduring energy of that music. Alongside their two EP's, Phase 1 and Winter Games, Section H8 built their name through their explosive live shows, sharing the stage with an eclectic list of notables such as Madball, Ghostmane, Show Me The Body, Lil Ugly Mane, Gulch, Gatecreeper, Jesus Piece and many more.

In the summer of 2021, Section H8 comes with their most definitive statement yet in the form of their debut full-length Welcome To The Nightmare, due out through the dependable Flatspot Records. Welcome To The Nightmare is pure hardcore punk at it's finest, with fast as hell instrumentals that quickly become formidable and pummeling on the turn of a dime. Section H8 have mastered their blend of blistering punk mixed with heavy grooves, as found on album opener "Nightmare" or "Mist-Head". Lyrically the ten tracks each tell their own story, ranging from personal experiences living in Los Angeles, crime, and death, to the current political divide in America, the legal system and the corruption within it. On Welcome To The Nightmare, Section H8 give an honest and unfiltered look at life through their own eyes, or as vocalist Mexi says, "The goal isn't to change the world, but to give you a glimpse into our world."

Recorded and mixed by Taylor Young at The Pit Studios in Southern California and mastered by Nick Townsend, Section H8's debut comes with plenty of surprises among the ten pummeling tracks, such as a standout feature from Tim Armstrong of Rancid on "Street Sweeper" which calls to mind the fast aggression of Rancid (2000). Another curveball found on the full-length is the following track, "Behind The 8 Ball" which acts as a thank-you list from the band over a grooving riff and gang vocals. Made up of Aldo (guitar), Chris (drums), Dan (bass, vocals), Mexi (vocals), Ryan (guitar, vocals), Section H8's members aren't new to this world by any means - playing in acts such as Product of Waste, Downpresser, Minus, Human Garbage, and Nomads to name a few - but their first full-length effort is refreshing and unique among the current trends of hardcore and punk.

Track Listing:
01. Nightmare
02. 100 Seconds
03. Knife
04. Track And Field
05. Roaches
06. Mist-head
07. F.O.A.D.
08. Streetsweeper
09. Behind The 8 Ball
10. Hate