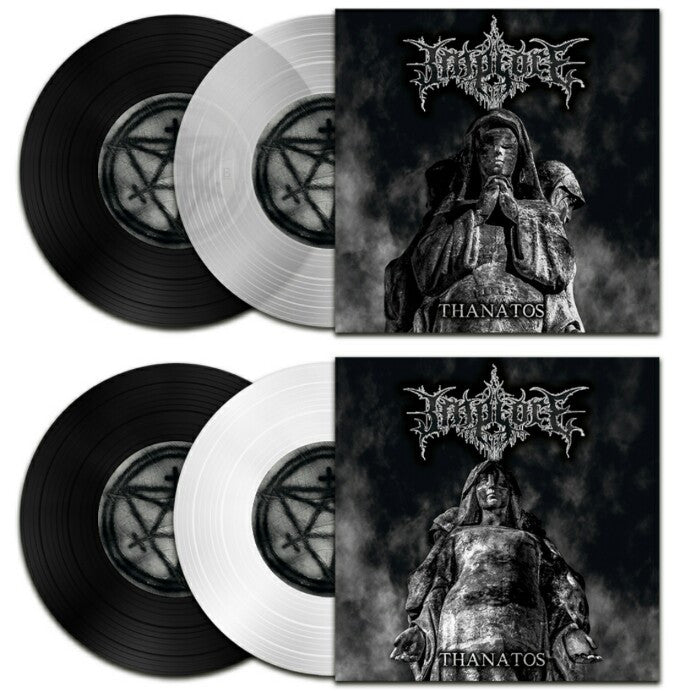 Implore - Thanatos Box Set
Implore - Thanatos 7" (White Vinyl)
Grindpromotion Records / Wooaaargh 2016
RELEASE DATE: September 11th
STREET DATE: September 16th
Box Set Limited Edition 50 Copies
Inside The Box Set:
1X Clear Vinyl (Wooaaargh Edition)
1X Black Vinyl (Wooaaargh Edition)
1X White Vinyl (Grindpromotion Records Edition)
1X Black Vinyl (Grindpromotion Records Edition)
2X Implore Sticker 
Implore has toured restlessly since the release of their first LP "Depopulation" (Pelagic Records 2015) more than 100 shows performed in Europe and Russia made this trio get everyone in the underground scene be familiar with their name and their hectic activity. This is why also open-air festivals such as Resurrection Fest, Party San and Summer Breeze wanted them to perform on this year's editions. Not taking anything for granted the band played all type of stages and venues from squats with electric generators in Italy to mini festivals in the woods of Switzerland. Following the release of the new 7" called "Thanatos", named after the Greek mythology demon, which is the personification of the death. The band will tour South America for the very first time, visiting Brazil, Uruguay, Argentina, Chile and Ecuador. A month long tour that will help increase the followers since South America is one of the most loyal and passionate audiences in the world. New guitar player Petro Manel comments "Thanatos is like a deep breath of fresh air for Implore's sound. It keeps the essence of the brutality in Depopulation adding some new details that bring the songs to a new level. The five tracks in this new EP are full of anger and hate, experimenting with new structures, riffs, and vocal lines, keeping the straight-to-the-point philosophy that makes this new 7" a short and intense one".