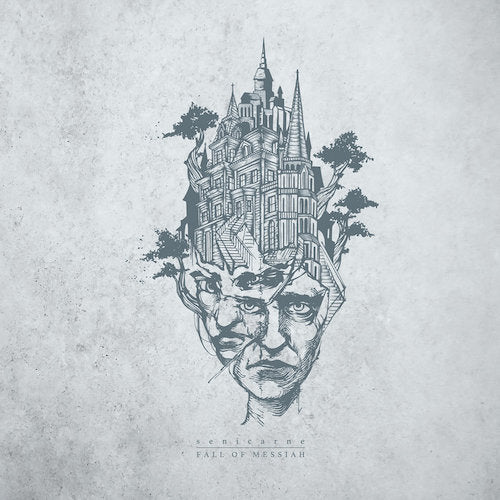 Fall Of Messiah ‎– Senicarne LP
Holy Roar Records 2020
French post-hardcore quintet Fall Of Messiah are back with their much awaited fourth full length album, 'Senicarne'. The bands invigorating blend of post-rock and first wave screamo is evidently still intact following the one-two punch of opening songs 'La république du vide' and 'Contreforts', as they pair delicate, pathos evoking, melody with cascading drums and rhythmic hypnoticism a lá early Pianos Become The Teeth, Heaven In Her Arms and Envy.

The band's self admitted vast melting pot of influences lean into emotive atmospherics whilst never once losing their sharper edges. Large sections of the nine songs on offer bubble and writhe instrumentally - showcasing a deft art of controlled chaos ('Atlantique' and 'The loneliest whale in the world'), which only amplify the frantically drastic urgency of cuts such as 'Sequoia'.

Fall Of Messiah's vision of distilling the spiritual essence of early emotional post-harcore into beautifully expansive and emotionally ravaging mini-epics, after four years since their last recordings, is an unquestionable triumph.

Track Listing:
01. La république du vide
02. Contreforts
03. Riveloup
05. Vertes vignes
06. Young pines
07. Atlantique
08. Sand Mountain
09. Sequoia
10. The loneliest whale in the world